Welcome to episode 49 of This Week Online Today, where I will be talking to you about the big online news that has been happening this week today to make sure that you are ahead of the game when it comes to running your online brand successfully.
And at the end of the show, I will also be giving you a bonus tip of the week to help you further.
In this episode of This Week Online Today, I talk about the following:
the terrible shooting spree that happened at YouTube HQ
more changes that happened on Google search result, which meant less traffic for some industries
the on-going fiasco with Facebook and what you can learn from it
Apply has hired Google's AI chief to focus on improving Siri
Sources
Transcripts
Ahmed Khalifa: Welcome to This Week Online Today podcast with your host, Ahmed Khalifa, where I'll be talking to you about the big online news that has been happening this week today to make sure that you're ahead of the game when it comes to running your online brand successfully.
And at the end of the show, I will also be giving you a bonus tip of the week to help you further.
So let's get straight onto the show.
The Shooting Spree at YouTube HQ
What's up everyone, I am Ahmed Khalifa and this is episode 49 of This Week Online Today.
And the first news I want to talk about is not something that is fun to hear about, because it seems to be happening a lot, and it's the whole situation with the YouTube shooting spree that has been happening in San Bruno. And I don't want to get too deep into it, because it's been in mainstream news and everyone, most people anyway, would have heard about what's going on.
And obviously it's awful, it's just really horrible to hear all about that, and it's quite political, and I don't really talk about politics a lot in public and stuff like that, so it's not my place to say.
I don't agree with the whole thing obviously, I don't agree with the whole thing about owning the gun, all that stuff, but I just don't get too involved with it. But it's quite clear that it's a horrible situation, and the person involved allegedly is someone who is also a YouTuber and is angry at YouTube about the whole monetization and lack of viewing that she has lost, and it's sad that it's come to this situation because I think we can all agree that if there's a problem, shooting is not going to solve anything, and it's not going to solve your problem that you're having right now.
I don't know what's the best solution, but the communication factor is important, talking to people is important, whether at YouTube or elsewhere. Finding a solution, that is also important, preferably a non-violent way.
And it's horrible, and there has been some injuries and hopefully everyone there is okay and getting back into the normal way of life for them before thinking about work and YouTube. And you can imagine that the big names in the industry are involved, voicing their surprise and shock and horror, and of course Google was involved, because obviously Google owns YouTube, and the CEO has been involved and trying to provide support to the Googlers and the YouTube staff.
An update from YouTube. pic.twitter.com/HG4LgCupRi

— Google Communications (@Google_Comms) April 4, 2018
So it's been a lot of people getting together and trying to come to terms with it together to get over this ordeal. And what's the solution to this? I don't know. I just don't know. And I don't know what's the best thing to do about how to prevent it from happening in the future, I think it's a very, very complex topic that requires a whole episode of this podcast, or a whole book, a whole blog post, and it's not something that I am well versed to answer. It's just not my place.
So I don't know how to do that, but I hope everyone in YouTube is feeling better, getting better soon and recovering well, and hopefully they can get back to their normal way of life.
More Changes to Google Search Results
A couple of changes have been happening on Google search results, and we know that they're just constantly testing and changing things, and here's another thing that we're going to talk about. And there's actually two things that have been happening on the search results. One is confirmed by Google, and one is spotted by people who are looking on Twitter and find out like that.
So the first thing that Google has confirmed is that they've made it easier for people to know the movie times for their local cinema.
So you'll be able to see the search result of times and date and what movie obviously, and I'm guessing the location. And you see it straight away on the search result, which means that you don't have to click on the website link to find more information. And we know that's been happening all the time, and it seems to be maybe increasing.
But it's confirmed by Google, and it's particularly focused on mobile, but also you can use it on desktop as well, but you can imagine on mobile when you're walking around, you want to find the latest time and showtimes and stuff like that, and you'll be able to see it on Google, just the search result without clicking on any website link.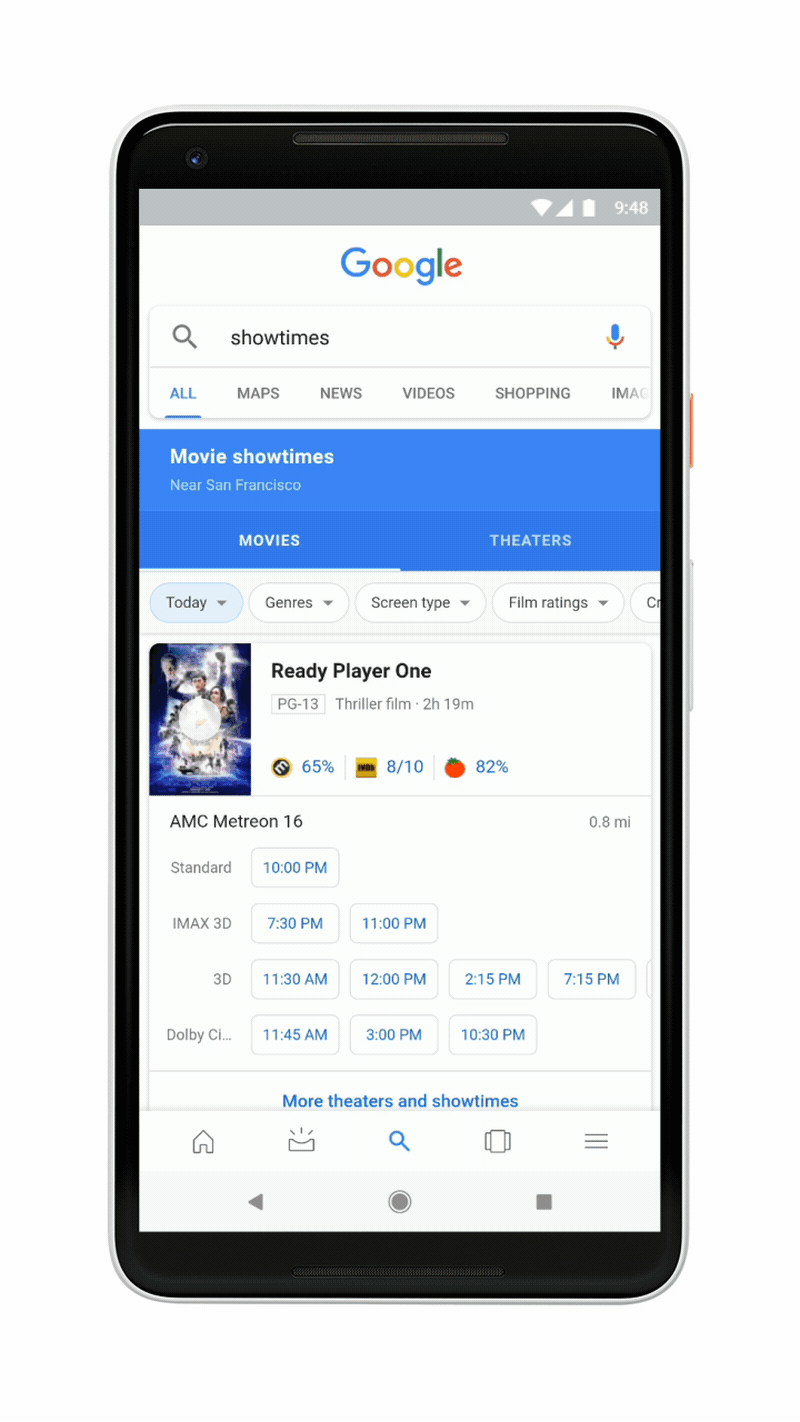 And I believe you search for even the generic word like movies, or movies in your city, or showtime, in America as well, and that's where you get the relevant search results. So you can check that out and see how that works for you.
The other similar news is that another thing that they display in the search results is air quality, and I'm talking about the air pollution and how clean or polluted it is. And the search result, if you search for air quality city, or air quality in your city, you'll get some kind of a metre that goes from green to red, from clean to polluted, and you get an idea of the air quality in a city of your choice.
And the company providing that is called BreezoMeter, and they're supplying that data for air quality.
And when you search you can see that it's data supplied by BreezoMeter, something like that. Which means that obviously they don't get any traffic for that, they just get the data displayed on Google. You don't really need to click on BreezoMeter at all.
But it does show that if you click on it, they do have even more detail. If it's something that interests you or you are in the industry or that kind of thing, or if you like the environment, or if you want something very specific about air quality then you will maybe click on the BreezoMeter link that appears at the top, and then the standard ten blue links that you see at the bottom.
I mean, who would have thought, as well? Air quality. Of all the things that, you know, you think that everything displayed on Google in terms of data, now we have air quality. Which, you know what? It makes sense, some people want that, some people actually search for that, there's nothing wrong with that, but it's not something that I would have thought of immediately.
So why am I talking about these two news, it's the same as before, Google is not afraid to make things easier for the users, and if they can get a result very, very quickly on their search result and if they're happy with that, then who are they to complain, Google? Google's not going to complain about that at all because they are providing what the users want, and the users are happy with it, then that's it, everyone's happy. The people who are not happy, obviously, are those who have websites and they provide this information and data, because then you probably lose traffic because of that.
And you could argue yes, you might end up losing traffic, and we've talked in the past about how if you are in the travel industry you can search for flights and hotels on a search result. You don't need to go to a website. That's affecting the travel industry. And there's other places like we've mentioned before about calculator, if you want a calculator you just go there and you've got the result immediately. And I believe even if you search for insurance and stuff like that, and mortgage even, you can do that straight away on the Google search result.
But how can you get over that? One thing is, are you prepared for that? Are you aware that more and more of this kind of search result could happen in the future, it could happen in your industry. Now, I'm guessing people in the air quality industry did not think that would happen. I'm just guessing that, but the fact is, air quality is displayed on Google. So in your industry are you prepared for that?
Because it will happen one day, and the best way to get over it is eventually you will get the kind of small amount of traffic that are people who want more information. And if they want more information, can you cater that to them?
Because if you are providing very basic information, maybe the same as what the search result is saying, what extra value are you providing? Now I'm not saying you should write a whole book about it and really sit on the blog posts and write thousands and thousands of words. No. That's not what I'm saying. It's just about having more quality, more valuable information and data that people may want.
For example, if you're in the air quality industry and you want to get people to click on your links, that's one thing, but once they land there you want them to engage. Then it's not just about having information about the air quality in the city. Maybe you could provide some kind of data about what it looked like yesterday, or a forecast for the future. You could maybe make it interactive. Maybe you want to look at across not just a big whole city, but maybe a specific area in a city.
Or maybe you want to look at the whole country, and you can be able to zoom out. It's up to you to find out what works, and that applies to any industry. So be aware of that. It will happen more and more, Google will kind of in a way take your data and display it on search results. It's going to happen more and more, and we can't ignore that. The question is, are you prepared about that, and what are you going to do to make it a better experience for those who do eventually visit your site.
Facebook Latest Troubles & What You Can Learn From Them?
Facebook is having a tough time recently. I mean, the past two weeks they're really getting a beating by so many different people in different directions. And when you hear more and more stories come out, I think it's making people more aware about the whole privacy situation and what companies can do with your data, but in this situation it's all focused on Facebook.
It obviously really kick-started with the whole Cambridge Analytica situation, and I've talked about that in episode 47 when it may have affected 50 million users on Facebook, but now they've admitted that it could affect 87 million users on Facebook which is a massive difference. I guess they just found out now more and more when they investigate what happened.
They also admitted to scanning your Messenger chat, Mark Zuckerberg actually said what they do with that. They don't actually use it for their own data purpose, but it's kind of like a warning for anything that may happen and they need some kind of alert, maybe violence or crime or any kind of thing that maybe has triggered via the chat, via Messenger, Facebook may be aware of that. But they don't use it to supply their data.
Anyway, they scan your Messenger chat, that's another thing that they admitted. They also admitted that, we just have to assume that most of the two billion users on Facebook has had their data compromised in some way or form. Imagine that. So you could be listening to this and right now, you may have your data, or in the past, your Facebook data, profile, account, your data may have been compromised in a negative way.
Now of course our data, whatever online profile we have, will always be used in some way or form for advertising for a lot of companies. I've gone about that in detail in the last episode, episode 48. But this is a little bit different, because it's compromised rather than used for a specific reason.
And then recently as well, Facebook has been clamping down on the amount of data that developers could use, and this has affected quite a few apps and companies. One of them is Tinder, good old Tinder, swipe left, swipe right, and it actually made it difficult for the users to log in.
They couldn't log in. You can imagine the drama, and I'm going to put a few tweets of what people were saying, it's quite funny actually. But it actually affected how Tinder is working. And even Instagram, Facebook's own Instagram, they have been affected. The whole situation with limiting data for developers has broken a lot of unofficial apps that were built on Instagram.
So who knows what will happen after that, whether permanent or not, whether it's going to be like that for just a little bit of a brief period and they can fix it, I don't know. We'll see.
And then Facebook being absolutely criticised by Tim Cook of Apple, the CEO of Apple. Tim Cook has been on stage in a chat show, and he's been saying how Apple's business model, which is all about selling products to customers instead of selling their attention, allows it to better serve its users.
So Tim Cook, that's what he said, it's about selling products, not selling their attention. And Mark Zuckerberg counteracted that, he wanted to say, his quote, "I think it's important that we don't get all Stockholm Syndrome and let companies that work hard to charge you more convince you that they actually care more about you, because that sounds ridiculous to me."
Yikes!
I mean, Apple and Facebook are really having, you know…the claws are out. The claws are out and they're really fighting each other over that.
Why am I talking about that? Well, it just shows, doesn't it, that you can't hide things online. There are arguments about being transparent and honesty, and what that could get you, what benefit that can bring to you.
And a lot of people are afraid of that, I think a lot of people are afraid of being honest and transparent and being out there and to kind of voice what you stand up for. And although Facebook was saying privacy was important in the beginning, but it didn't work out, and that's the thing.
People are saying, were they being honest? Were they lying? Were they just pulling your leg all that time? We don't know, and that's another reason people got angry at Facebook, because they felt like they were being lied to potentially. And it just shows that being honest online is important.
You can't fool people, you can't get away with, there's a saying, "Get away with murder," is what people say. You can't do that any more. So think about how you conduct yourself online and offline, and whatever you stand for, whatever you stand up for in terms of how you provide your service to your customers, does that really apply? Can you honestly say that you are following that kind of ethos in your company, in your brand, in your website? Because eventually you may be caught.
You can't fool around anymore, you can't fake it. There's no such thing anymore as "fake it 'til you make it". That used to be a thing in the past, but with the online world, everything is exposed, so don't be a fake. Be honest, be transparent as much as you can, and just follow through. Just follow through and you'll not get competitors attacking you and dragging you down and throwing you in the snake pit and leave you to it. At least you have something to stand up for.
Apple Snapping Up Google's AI Chief
Even though Tim Cook is talking about how they sell their products and their business model serves its users better than Facebook, there's one thing that Apple is not very good at, and that is the whole situation with AI and artificial intelligence, and voice search, and all that situation. So with that in mind, Apple has kind of nicked the AI chief at Google.
His name is John Giannandrea, and he's been at Google since 2010, working on the machine learning and AI kind of thing.
And he's pretty much going to do the same thing at Apple and report directly to Tim Cook. It's a big deal for Apple. Very big deal, because Apple and Siri are so far behind in terms of what Google Assistant, with the whole OK Google, and Amazon's Alexa. Google and Alexa are ahead of the game in terms of voice search, and Siri, surprisingly or not, and we all remember when Siri came out, it kind of really made people like, "Whoa, what is this?" kind of thing.
But for some reason when it comes to understanding voice commands and following simple requests, Siri tends to struggle. And I don't know about you, but you don't hear people talk about Siri a lot. You know what, come to think of it, you don't really see Siri advertised a lot on TV or media anywhere either.
I remember in the past they used to be advertised a lot, but not so much anymore. So it feels like Siri needs to catch up, and Apple, they will eventually have the smart speaker, and if they are going to have that then it needs to really improve their system, their AI system, and really make Siri as good, if not better, than Google Assistant and Amazon's Alexa.
So another trend for you to be aware is that this is direction that we are going towards this whole voice search and smart speaker and people using it is going to increase. So imagine, if you think about the number of Amazon Echo and Google, the small speaker, Google Home, imagine how many there are right now in the world, and imagine when Apple release their own smart speaker, and that will increase massively, because Apple have a lot of fanboys and fangirls.
So the three of them together, and I've heard somewhere Samsung is going to do the same thing, all combined it just shows that there's going to be a lot of data around voice search and people wanting information instantly, and that's the direction we're going towards right now. We can't ignore it. We can't ignore that market demand and market trend.
So there's not a lot we can do right now apart from maybe you want to think about having your own Amazon skills, you can think about doing that, or you can think about working toward making sure your content will be appearing at the top of Google, and maybe Google will voice that result when people search for it on Google Assistant, who knows.
There's so many things that you could do, and it's all about your content really, how you display it, how you write it, how you structure it, it's all about that.
But this is why it's really, really more important now to make sure that you have your content up to scratch, up to date, it's well-detailed, well-structured, and you have everything that you need right there, and it's engaging, it's just a very brief overview. You can go into so much detail about what you should do with your content, but this is the direction that we're going to. It's all about voice search and smart speaker.
I'm not saying that's going to take over the world and then desktop and mobile search will be redundant, no. I'm not saying that. If anything it's not going to happen anytime soon at all. But it just shows that this is the way the market's going, we can't ignore it, are you prepared for it? Are you ready for it? And if you are, good for you. If you're not, what are you going to do about it?
And it's time now for the bonus tip of the week. It's one thing to do your best in terms of your website and putting all the content in there, and you're pushing it out there and you're promoting it and everything. That's all well and good, but it's another thing to measure it.
To measure what worked, what didn't work, and what you can learn from that. So that's why it's important that you measure and learn. And by that it could be whatever analytics tools that you use, and for your website the most obvious option would be Google Analytics. But even if you use your social media account, they each will have their own analytic platform. On YouTube they will have their own analytics platform as well.
It's very important for you to learn what worked and what didn't work, because then you can kind of use that information and take it forward to the next step. And that's why I get really frustrated when you see people have a really good website, they get everything on there, but they don't have Google Analytics or whatever tool that you use at all. They're not measuring anything. And for me another important metric to measure is conversion.
When I say conversion, it doesn't always have to be about sales. It's not all about revenue. It could be something as simple as your email subscription. It could be the engagement of your blog post, how long they stay on that page.
It could be your leads in terms of your contact form, or your phone leads. It's not always about money. Everyone has their own objective, everyone has their own kind of conversion idea for the website. So that's a major metric to measure actually.
So that's one side, you can talk about your conversion but then you can also measure your engagement level, your traffic and where they're coming from, and who's engaging with it. What audience type like it, what doesn't like it. What device works better. What device doesn't work, maybe you find out technology or browser that for some reason people with that browser, I don't know, say Firefox or Internet Explorer, they're not very good by the way, not very good at all.
But let's just say Internet Explorer, if people use that and the website does not really work properly and people are not engaging with it, and they're not staying on the site long enough, why? Maybe you can find out why. Maybe…this is where you can investigate and find out what happened.
Why is it that people using this particular browser or this particular mobile do not have a good experience on your site? Measure and learn. It's so, so important that you do that. If you have any kind of online platform, website or social media or otherwise, or YouTube, do it. Measure and learn people
Get on it right now.
Thank you for listening to this episode of This Week Online Today, I really do appreciate it and I hope you found it useful. If you have enjoyed the show, please do leave a review on iTunes, it would mean the world to me. I really would appreciate that. Thanks again, you rock.
And one more thing, I just want to remind you to do your thing, because it matters.
And I'll see you next week.
Founder & Director
at
Khalifa Media
Ahmed helps small businesses to maximise the potential of their WordPress sites by growing their online visibility, increase audience engagement and encourage conversions.
Latest posts by Ahmed Khalifa (see all)